Enrolment Period
12 Months
The average completion time is between 3 and 6 months. However you can take as long as you need within your 12 month enrolment period.
Course Assessment
10 Assessment days in-class or online
You can study in-class, online or mix and match between both. Our Diploma follows a flipped classroom style, so you'll watch videos online either way.
Investment
$3500
This includes all of your in-class and online materials, as well as dedicated liaison time with our staff to organise and plan your Diploma study.
What is a Diploma of Property Services?
The CPP50307 Diploma of Property Services (Agency Management) is WCPT's offering for real estate professionals aiming to advance their careers and knowledge level.
Why do I need it?
Because you want to reach your potential – and then extend it even further. Lead – not follow. Create – not imitate. And achieve authentic success in real estate, by anyone's measure.
The Diploma is also the educational pre-requisite to applying for a real estate licence in Western Australia. A triennial certificate and real estate licence is required by any real estate professional looking to open their own office, employ other sales people or property managers and run a real estate business in bonafide control.
WCPT is a registered training organisation (RTO 51792) which means your Diploma will be a nationally recognised qualification.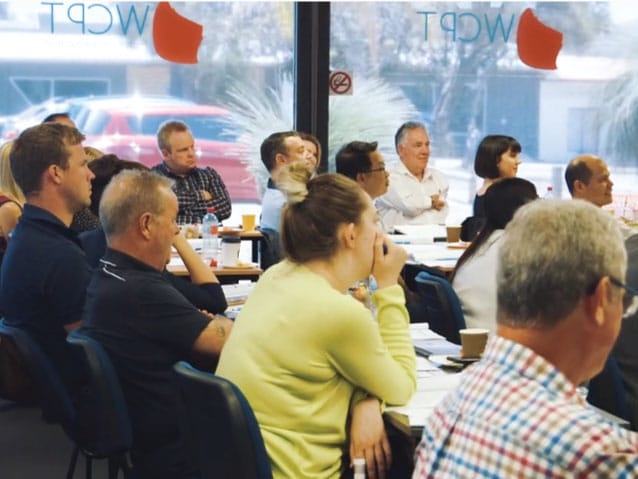 Pay the full amount upfront and save!
Instant Access

:

Yes
Format

:

Flipped or Online
Timetable

: Here
$3500
Course Structure
WCPT's Diploma is made up of 10 specialised assessment sessions that can be completed either online or in-class. If you choose to study in-class these assessment days run on a continuous cycle, so you can pick up an assessment whenever you're ready and finish once your personal cycle is completed. If you choose to study online, you start wherever you like!
The Risks
Assessing agency risk and business operations.
The People
Finding and keeping great people.
Being the Agent
Being a licensed agent
The Finance
Financial management
The Strategy
Business strategy and marketing
Rural
Selling rural property.
The Sales Department
Managing strata and property sales
Selling Businesses
Selling businesses in WA
The Law
Aspects of Western Australian law
The Culture
Building a client service culture
The PM Department
Managing the PM department
Flipped Classroom: The flipping difference
Complex ideas are delivered to you in your own time and space. This means you can be present and be intentional when you learn. Our theory sessions are delivered in video packages that can be unwrapped and consumed according to your timetable. As you learn, complete simple online assessments to test your knowledge retention. Enter the WCPT classroom equipped with a brain full of new ideas, ready to extend yourself. Our classroom-based assessments will require you and each of your peers has watched our theory videos, and will use your time to assess your ability to translate theory into practice. Our classroom is your collaboration zone: think round table discussions, analysis, case studies and role plays. Our Diploma is a study in best practice educational design. We allow you to learn at your speed, and when you are ready, guide you in benchmarking yourself against industry standards. You show us how you do things – and we will show you areas for improvement.
Online - Ultimate flexibility
Remote learning without the distance! Our Diploma is ready when you are! You will be provided with instant access to the course which means you get started right away! You may decide to study 100% of your Diploma in an online study mode – but that shouldn't mean you feel isolated. WCPT know what it takes to keep you engaged, motivated and achieving. Access online video classes, complete a workbook as you watch and then compile a research assignment to demonstrate your newly-acquired knowledge and skills. This study option is the perfect design for anyone who simply cannot join us in class during standard business hours.
Custom - Have it your way
Not sure which study method is best, or need to mix things up to meet personal deadlines? Choose custom to design your Diploma course to your requirements. WCPT acknowledge that there is no 'one size fits all' when it comes to studying the Diploma of Property Services. That's why we aim to to give you the best education possible, by personalising and customising what you need to know. We deliver this education in an interactive and interesting way, allowing you to fuel your own learning and we provide you as much support as you need to finish your Diploma by customising a timetable to meet your deadlines, not ours.
The Diploma of Property Services (Agency Management) is changing
A new CPP51119 Diploma of Property Services (Agency Management) is due to be introduced. In addition to the new Diploma course, DMIRS are also considering the need for an upskill to the full new CPP41419 Certificate IV in Real Estate Practice as a requirement to apply for an agent's licence.
DMIRS have confirmed the new CPP51119 has not yet been approved as a qualification to apply for your licence. This means WCPT will not be offering the new course until DMIRS have made a decision on what courses they require you to complete in order to apply for a licence – makes sense, right?
All you need to know for now is, the teach out period for the current course is valid until 2021.
The CPP50307 Diploma of Property Services (Agency Management) is made up of 26 units of competency from the CPP07 – Property Services Training Package. This course will give you the educational requirement to be licensed as a real estate agent by the Department of Mines Industry Regulation and Safety and work as a licensed real estate agent in Western Australia.
You can read more about the nitty gritty details on the DMIRS website
General Terms and Conditions
The enrolment period for this course is 12 months
In the event that life gets in the way, and you are unable to complete within 12 months, you understand that extension fees may apply. These will be $500 for every month over the enrolment period. A maximum of 6 monthly extensions available.
The marking period for submitted assessment items is 10 working days, but we always work hard to return your work to you faster than this.
Work must be submitted through our online portal realplace, any emailed work will not be accepted.
Further conditions apply as per our general terms and conditions